ADM Health & Safety Services
Consultancy & Training for Industry
Tailored Courses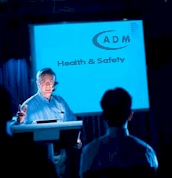 ADMís consultants have been in the construction industry for many years and have accumulated a vast amount of practical knowledge that can be passed on to others.
We therefore have the ability to tailor and design courses to suit your particular needs. ADM are qualified course designers, and if requested can produce for your specific needs.
Our Ethos
ADMís ethos is 'Safety never takes a day off'.
We believe that Health and Safety is paramount in the daily running of any business and we aim to ensure that we help to provide a safer working environment by bringing Health and Safety to the forefront of every individual's mind ensuring that they work as safely as possible on a daily basis.
Collaboration
Health & Safety at work should be a joint effort on the part of employers and employees. Our aim is to encourage collaboration between all parties to minimise risk and improve working conditions.

Health & Safety Services. Market Deeping 01778 344082