ADM Health & Safety Services
Consultancy & Training for Industry
Method Statements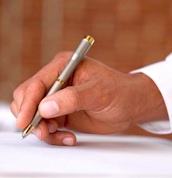 Method Statements have proved to be an extremely effective and practical management tool, especially for higher risk work, they are most commonly required for construction work. Although they are not a legal requirement, they do lay down how you intend to carry out the job and specify the control measures that are to be adopted for that job.
The method statement should be based on your assessment of the risks to the health and safety of your employees and all others who could be affected by the work. The job specific risk assessments should also be incorporated within the method statement.
Requirements
Firms must ensure that they employ safe contractors. This particularly involves a thorough assessment to ensure competence at pre-contract stage and throughout the job. Method statements are one of the tools at your disposal to show the client your adherence to safe working procedures and you have assessed the risks that your workforce is subjected to. Incidents often happen because contractors are unaware of particular dangers posed on separate sites.
When To Use
ALL Construction Works
Excavations
Demolition work
Erection work
Crane tasks
Complex tasks
Machinery/Human interface tasks.
Working at height.
Using COSHH substances.
Cleaning of tanks.
Confined spaces work.
Maintenance tasks.
The list is endless...

Health & Safety Services. Market Deeping 01778 344082