ADM Health & Safety Services
Consultancy & Training for Industry
Fire Risk Assessments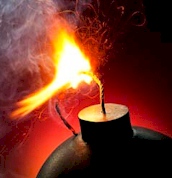 The Regulatory Reform (Fire Safety) Order 2005 requires a responsible person to undertake a Fire Risk Assessment (FRA). A FRA must be conducted in occupied premises with its findings circulated to all relevant persons who may be affected by the risk. They must be informed of the hazards involved and the preventative and protective measures put in place to protect them. The significant findings of the FRA must be recorded.
The employer must ensure that they have sufficient competent personnel trained as fire marshals to ensure that the fire procedure is followed correctly and that the evacuation of premises is undertaken quickly and safely.
ADM will carry out an on site inspection to determine the hazards and produce a Fire Risk Assessment highlighting areas of concern, action points and any training requirements that are required.
Our Ethos
ADMís ethos is 'Safety never takes a day off'.
We believe that Health and Safety is paramount in the daily running of any business and we aim to ensure that we help to provide a safer working environment by bringing Health and Safety to the forefront of every individual's mind ensuring that they work as safely as possible on a daily basis.
Training
We can give all staff general fire training, provide specific training for Fire Marshals and assist in ensuring effective fire drills are carried out.
ADM can provide the following...
General Fire Training
Classes of fire
Use of extinguishers
Fire call points
Action on discovering a fire
Action on hearing the alarm
Fire Risk Assessment awareness
Fire Marshals Training
General Fire Training
Plus specific duties

Health & Safety Services. Market Deeping 01778 344082