ADM Health & Safety Services
Consultancy & Training for Industry
Display Screen Equipment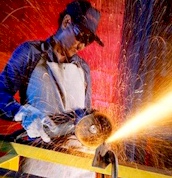 This course is primarily for persons who will be operating and mounting abrasive wheels for use at work. It is also ideal to give others (eg supervisors) an appreciation of abrasive wheel safety and wheel mounting techniques.
Course content includes...
Identifying typical hazards associated with the use of abrasive wheels.
Demonstrating knowledge of (BS EN 12413) the wheel marking system.
Selecting the appropriate wheel for particular applications.
Understand the need for RPM control.
Method of correctly mounting wheels on bench, angle or cut off grinding machines.
Inspecting and testing wheels are fit prior to use.
ADM run the following designed courses...
A 2 hour course for changing abrasive wheels on angle grinders/disc cutters designed for operatives.
A 4 hour course, as above with further detailed information designed for operatives and supervisors.
A certificate will be issued on completion of a course.
Aim Of Course
To provide information and practical instruction to enable the participants to comply with the requirements of the relevant legislation relating to the safe use of abrasive wheels.
Requirement
The Abrasive Wheels Regulations 1970 were revoked when The Provision and Use of work Equipment Regulations came into force in 1998. Regulation 9, Training, re-affirms the requirement to provide adequate and sufficient knowledge and training to employees and supervisors alike. Eg, selecting and mounting abrasive wheels.

Health & Safety Services. Market Deeping 01778 344082